Upgraded Pool Cover Pump Protects Your Pool and Minimizes Maintenance
When it comes to choosing or recommending the best pool cover pumps for your customers, they're counting on your knowledge to protect their pool and minimize the time they spend cleaning it. Pool cover pumps experience a lot of wear and tear from weather, but they are the first line of defense in protecting the all-important pool pump. Choosing the best pool cover pump just got easier thanks to the upgrades offered this year—just in time for pool winterization season.
An automatic pool cover pump is a great investment considering the alternative, which is keeping an eye on the cover for accumulating water and manually pumping the water off. The automatic version sits in the center of the pool cover and switches on when accumulated water reaches a certain level, pumping water off the cover. Other words for pool cover pump? Peace of mind now and less work later.
The 411 on Superior Pump's Latest Upgrades
We stock the pool industry's most popular products and brands, so you have one easy source for the latest supplies, like pool cover pumps. We're particularly impressed with Superior Pump's latest model and its upgrades.
The newest pump's performance is optimized, running at 2,100 GPH. If being even more powerful isn't enough, other upgrades include:
A switch that has been moved away from the pump top cover to improve air/water flow and maximize switch performance and longevity
A 25-foot power cord
A shorter float rod that allows the pump to operate more efficiently at different angles
A larger heavy-duty float ball
Larger vent holes for better cooling and improved performance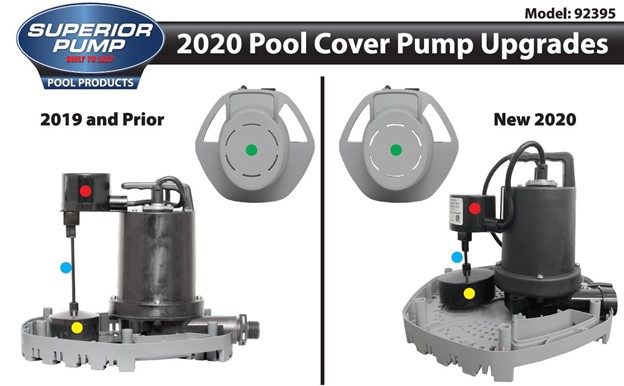 Have Questions? Our Experts are Here to Assist
If you are looking for a simple pump with a lot to offer, you can't go wrong with Superior Pump. Pool winterization time is upon us and your customers at this point need equipment fast. Take advantage of our same-day shipping, connections with distributors and competitive pricing, so you can deliver on your promises and excellent service.
Remember as you're fielding questions about pool cover pumps or pool winterization to ask our staff if you need answers, recommendations or support. We're here to help you ensure your customers are satisfied.